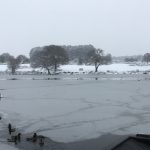 With the recent flurry of snow, it's temporarily affected our daily lives.  Snowfall brings a flurry of joy and in talking to people around me and with a bit of help from Google, here's the most popular reasons why –
Childrens' excitement – the joy and excitement when snow falls is joyous to experience
It brightens the world – everything is white and bright
It creates a magical look. I walked into Sutton Park yesterday and it was a picturesque Christmas card scene.  Each twig of the endless branches had a layer of snow in a depiction of Narnia and everywhere looked amazing.
Fun and Games – many people come out to play in the snow from sledging to snowball fights to creating snow-people and animals.
It links to our childhood – Snow is magical for children and that included us when we were you which carries on as we get older.
Snow-days. Some companies and many schools close because of the snow which means that workers, school staff and some parents get an extra day off (to play!!).
It gives us calmness – looking into the snowy world can fill us with wonder and can be very calming
It brings people together. We can all snuggle inside when it's snowy in front of a fire or a Christmas film, under a duvet or with a hot drink.
It inspires a sense of community – As people play and interact in parks and in their street, we mingle with others. People also help others with clearing paths or checking on neighbours which brings out the best in us as we look after people in our surroundings.
It allows us to admire the beauty of nature
It brings us to the here and now as snow is relatively rare, beautiful and it's not going to be here for very long.
As a famous songwriter once wrote 'it's up to us it make the best of everything that comes our way'; snow gives us the opportunity to enjoy the moment.
Above are reasons why people tend to love snow from my short bit of research – Do you agree? Have I missed anything?