Telephone Counselling
Currently, telephone counselling is an essential way to gain the support that you require as a society and as individuals and families, we face such new and strong challenges.
How does it work?
It works in the same way as face to face counselling except it's a telephone call rather than a meeting. It has always been available and used famously by services such as the Samaritans and Childline. Click here for an article about how counselling could help you.
Telephone counselling is often preferred as it is more flexible, easily accessible (without having to travel to a therapy centre) and some people prefer the added anonymity and can feel more open to disclose.
How do I arrange an initial session?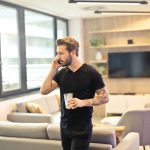 This can be done by text, email and telephone. In this initial contact, I will look to answer any questions you may have and provide as much information as you require.
If you wish, we may arrange an initial appointment where we'd arrange a mutually convenient time for you to receive your first call. The first session reflects that of a face to face session and click here for an article which will inform you of what to expect. Each session lasts for up to 50 minutes.
Please call or email me if you'd like any further information whatsoever.