For the next 2 weekends, professional football is promoting the importance of mental health with the top men's and women's league being dedicated to the campaign. With football still being male dominated and with males making up three quarters of suicides his high-profile campaign further helps to normalise and de-stigmatise mental health issues.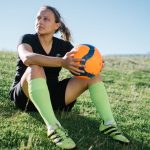 Football is watched and attended by a wide audience but particularly by young males. Targeting this group is essential and the knock-on effects of people looking after their mental wellbeing has such far reaching implications such as improved mood for the individuals, healthier and more positive relationships, people being able to support others better and passing on their wellbeing methods to others.
Harbouring a culture of openness and mental wellbeing can ultimately help us all thrive and can reduce suffering. Click here to view a video about this which also has comments from Tony Adams who is the founder of Sporting Chance who are a mental health organisation supporting professional sports people and their families. If you can, take some time to notice what they're doing this weekend.
Regards